Dec. 21st, 2012
07:35 pm

aderam

Today is the longest night of the year!
I've got my Solstice candle lit and it will keep the light going through 'til dawn. I'm still working out a lot of things about my pagan practice (and probably will be for the rest of my life) but lighting a candle on Solstice is something that my Mum started doing when I was a kid, and it's a tradition I like to maintain. It makes me think of Egyptian mythology: the Sun god Ra going through the underworld every night and fighting against the serpent Apophis ("Dead false god," says Teal'c), and the priests who would pray all night to help him in his journey. Tonight is the longest night of the year. Ra can use every little bit of help.
(*Sidenote: my spellcheck thinks that "Apophis" should be "Sophism". What are you trying to say, computer?)
Today the sun set at 4:17 (I checked the exact time). And it was fairly clear today so it was actually still pretty light out when I was out getting groceries at 3:30. The other day it was so overcast that it seemed like it was getting dark around 2:30 - so this was a good day.
I made sure to get my candle lit as the sun went down. It was still fairly light outside even though it was not in my apartment.
Then I started making myself a Solstice Feast! Someday I think I'll have people over for a Solstice celebration. But for now it's good to work things out on my own. For dinner I got myself a small lamb roast and made carrot soufflé and Yorkshire puddings to go with it. Very successful:
It was my first time making Yorkshire puddings, but I had my Dad's recipe and it turns out they're dead simple. I replaced the sesame oil with olive oil because I didn't have any of the former and they tasted great to me anyway. I should definitely make them again. I've made the carrot soufflé before, although I think this is the first time I've done it with an electric mixer. In theory it should have been fairly simple too, but I cut the recipe in half (since there is only one of me) and I don't think that turned out as well as it could have. Still tasty, but not as good as it's been in the past.
Things I forgot: mint sauce and gravy.
Overall it was a great success despite my tiny kitchen.
Also - Raspberry porter (Made by the Tree brewing company) is just as good as it sounds.
I was going to make some apples (fried with brown sugar and brandy) for dessert, but after six Yorkshire puddings and almost half of a lamb roast and a carrot soufflé I'm rather stuffed in the best possible way. So I'm having mini candy canes for dessert instead. :)
And I got myself a tiny Christmas tree!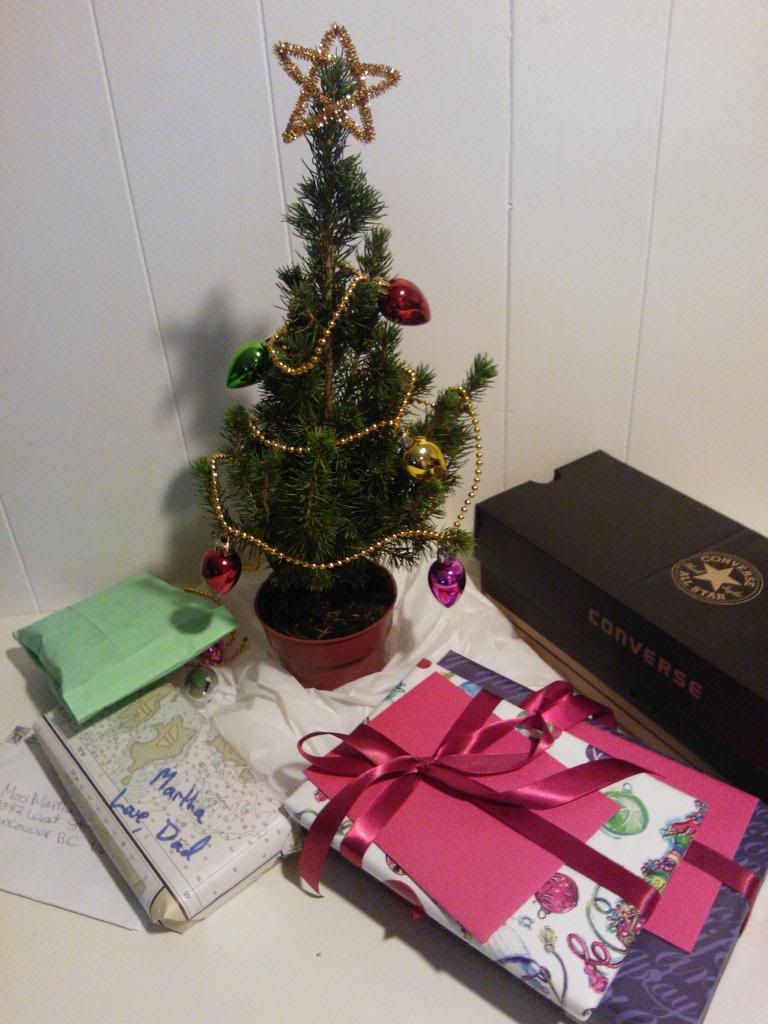 Happy Solstice everyone!